"THE FOURTH INDUSTRIAL REVOLUTION:CHALLENGES FOR DEVELOPING COUNTRIES"
Conference will be organized by the National University of Mongolia on June 12, 2019 in Ulaanbaatar, Mongolia.
The conference offers an opportunity for scholars to share their research works and exchange ideas regarding the changes of business and management theories and practices in the fourth industrial revolution and challenges that are facing the developing countries. It also provides a premier interdisciplinary platform for researchers and practitioners to present and discuss the most recent innovations, trends and concerns as well as practical challenges encountering in the modern business environment.
The conference intends to attract original, valid and relevant contributions on the shaping of multidisciplinary field of Management and Business in an increasingly and ever changing world.
We accept paper and poster presentations. Submitted papers will be reviewed.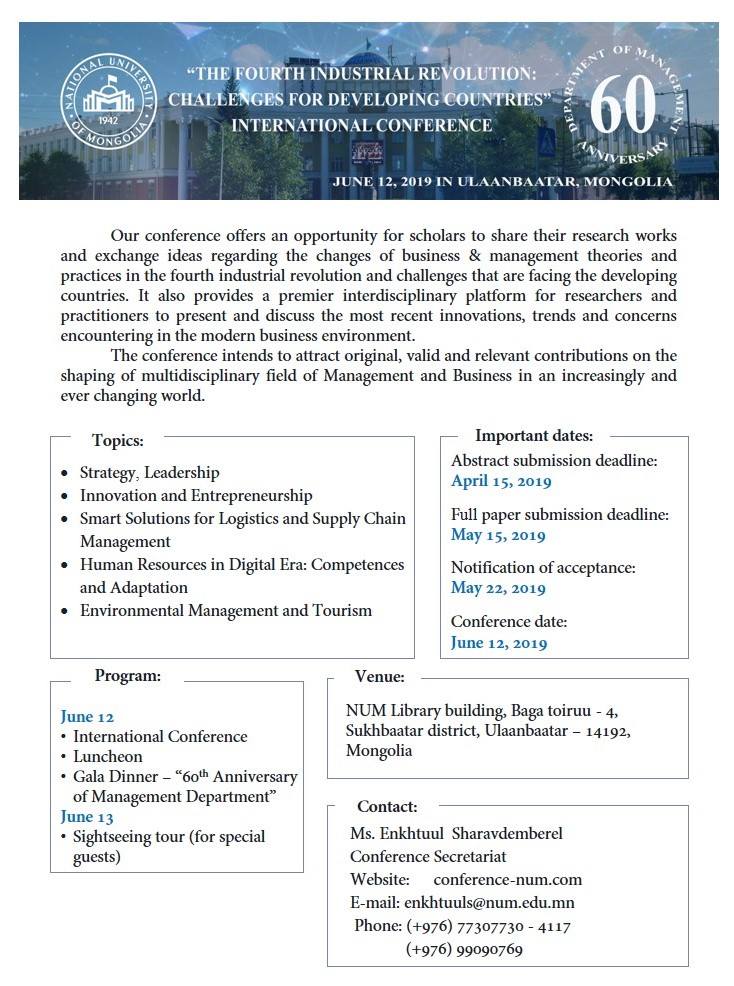 IMPORTANT DATES:
ABSTRACT SUBMISSION DEADLINE: April 15, 2019
FULL PAPER SUBMISSION DEADLINE: May 15, 2019
NOTIFICATION OF ACCEPTANCE: May 22, 2019
CONFERENCE DATE: June 12, 2019
THE CONFERENCE TOPICS SHOULD BE BUT NOT RESTRICTED TO:
Strategy, Leadership
Innovation and Entrepreneurship
Smart Solutions for Logistics and Supply Chain Management
Human Resources in Digital Era: Competences and Adaptation
Environmental Management and Tourism
PAPER SUBMISSION GUIDELINES
Your submission for a paper should be ordered under the following headings:
Paper title
Name of Author/s
Position
Contact details
Abstract
Key words: List up to 5 keywords or terms
Submitted papers should content following sections
Introduction (which will include background/motivation/rationale of the study)
Literature review/research gap
Research method
Findings, conclusions
Theoretical and practitioner implications
Limitations
Reference list
Other details of paper preparation:
File format: File should be MS Word (doc or docx) file format.
Abstract Length: 300 words (excluding reference list).
Font size and type: 12 font size, Times New Roman.
Margins: 2.54 cm margins all round
Number all of the pages of the paper.
Only submissions in English shall be accepted for review.
In case of acceptance, the author or one of the co-authors should be available to present the paper at the conference. A presenting author can only present one paper at the conference.
Accepted authors should prepare Power Point Presentations (PPP). Each presenter is scheduled for a total of 20 minutes (nominally a 15 minute presentation and 5 minutes discussion). The PPP should not exceed 30 slides in total. Please send your PPP slides by 10 June, 2019 to zulbayar@num.edu.mn.
POSTER PRESENTATION
The poster should be a visual presentation of your submitted abstract and should meet the following criteria:
Title
The title should be the same as in the submitted abstract. Include the title of your presentation at the top of the poster. Characters should be a minimum of 48 point font size. Your name, School, department/ affiliation should be displayed on the poster. HEADINGS 48 to 60 point font size is recommended for headings.
Size
The poster must be A0 size (A0 size is 841mm x 1189mm) in portrait orientation.
Lettering
The poster should be easily readable at a distance of two meters. Use UPPER and lower case for general content as the use of all-capital text is difficult to read. Avoid using a mixture of type/font styles.
Content
24 to 32 font size single space is recommended. The text should be concise and easy to read.
The message that your poster contains should be clear and understandable without the requirement of oral explanation. If relevant, methods should be presented simply and concisely. Results should be presented graphically. Avoid large tables of data. Results should be in line with those originally submitted in your abstract.
Data visualization such as pictures, symbols and color recommended. If using graphs, they should have a short heading. Use the space to attract your audience for discussion, not to present complex details of methods and results.
CONTACT US:
Ms. Enkhtuul Sharavdemberel
Conference Secretariat
Website: conference-num.com
E-mail: enkhtuuls@num.edu.mn
Phone: (+976) 77307730 – 4117
(+976) 99090769